Jockey wheels
Looking for a nose wheel for your trailer, caravan or trailer? Then look no further. At Logihub, you will quickly find a suitable nose wheel. Available in various sizes (tube diameter) and tyres.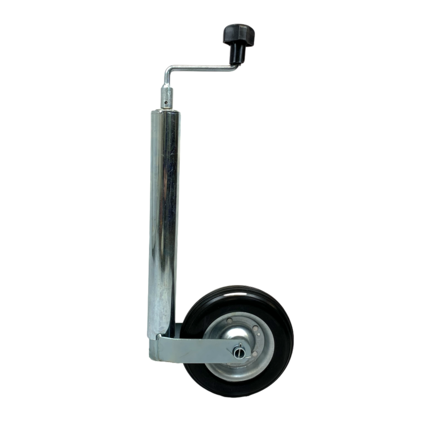 Buy jockey wheel for trailer or caravan?
The jockey wheel is the part of your trailer, caravan or trailer that generally wears the most. This may be because it is not turned on properly, sinks down or is simply used frequently. For this reason, it is a part that needs to be replaced after too much wear to keep it functioning optimally. We therefore offer various jockey wheels at competitive prices. The most common size jockey wheel has a tube with a diameter of 48 mm. In addition, our jockey wheels have wheels with a puncture-proof tyre.
Load-bearing capacity of a jockey wheel
Normally, there will never be much weight on the jockey wheel. However, when in doubt, it is wise to take the load capacity liberally. This prevents the jockey wheel from coming under too much pressure. You don't want the jockey wheel to break down during use. This could have unpleasant consequences for your caravan, trailer or other cargo.
What is a jockey wheel and why should you buy one?
A jockey wheel is important part of a trailer, trailer, caravan or folding trailer. A Nosewheel is not compulsory and therefore not necessary, but it is incredibly handy! Moving your caravan or trailer becomes a lot easier, lighter and goes a lot faster. It is also safer.
I want to buy a jockey wheel, what should I look out for?
When you want to replace your jockey wheel, pay attention to the following points:
What size diameter wheel (diameter) does the jockey wheel have?
Does the jockey wheel have a steel or plastic rim?
What size tube does the jockey wheel have?
Is the jockey wheel automatically foldable?
What is the height of the jockey wheel?
What weight should the jockey wheel be able to carry?
Answer these questions to come to the right choice. Logihub.co.uk currently offers some interesting options. In the near future, this range will be extended with several sizes, brands and accessories. Therefore, keep an eye on the website for the offer. Besides jockey wheels, Logihub offers a wide range of other wheels. For example, take a look at our range of swivel castors or cast iron vintage wheels, for a retro look!
Read more
Close