Wheelbarrow wheels
Want to buy a wheelbarrow wheel for your wheelbarrow? In our product range you will find, among others, anti-leak wheelbarrow wheels and wheels with axle.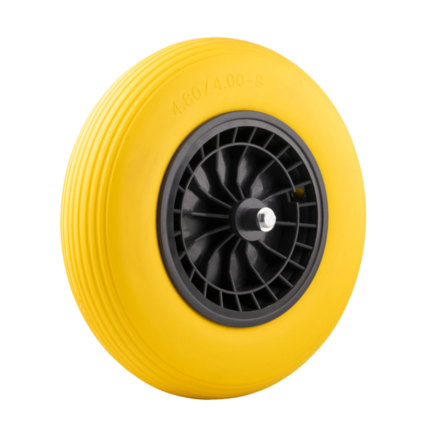 Wheelbarrow wheels
Would you like to buy a wheelbarrow wheel? Then you have come to the right place at WheelsOutlet! In our wide range of different types of wheels, you will of course also find the wheelbarrow wheel. When doing garden work, a wheelbarrow is often indispensable. However, a good wheel is important. After all, you do not want a flat tyre during your garden chores. Is your wheelbarrow wheel punctured or in need of replacement? Then you can easily buy a new wheelbarrow wheel online with us.
Wheelbarrow wheel replacement
If your wheelbarrow wheel is leaking, you can of course try sticking it on. However, due to the heavy load placed on it, this is often ineffective. Replacing the tyre is then usually a better idea. We deliver all our wheelbarrow wheels including axle. Our wheels are easy to assemble so you can get back to work quickly! You can choose from wheels with plastic or metal rims, ball bearing or roller bearing and from pneumatic or solid tyre.
Anti-leak wheelbarrow wheels
You know the feeling, the sun is starting to shine again and it is time to do something about the garden. In good spirits, you take the wheelbarrow out of the shed and what happens? The wheel has sprung a leak! That is of course very annoying. Fortunately, you can easily buy a new wheelbarrow wheel at WheelsOutlet, without having to leave the house. And do you want to avoid having a leaking wheel again next spring? Then of course you choose our anti-leak wheelbarrow wheels! These leakproof wheels are easy to fit and have a load capacity of up to 200 kg. Because this solid wheelbarrow wheel is made of special materials, it cannot leak. Very handy when there are sharp objects such as nails on the ground during a job project.
Buy wheelbarrow wheel online
When you need a new wheelbarrow wheel, you can easily order it online at WielenOutlet. If you order before 4pm today, we will ship your wheelbarrow wheel today. We always deliver within 24 hours on working days and for private customers also on Saturdays, so that you can get back to work with your wheelbarrow as soon as possible. So order your wheelbarrow wheel online right away!
Read more
Close