Waste container wheels
Waste container wheels with and without brake of high quality that allow you to easily move your container.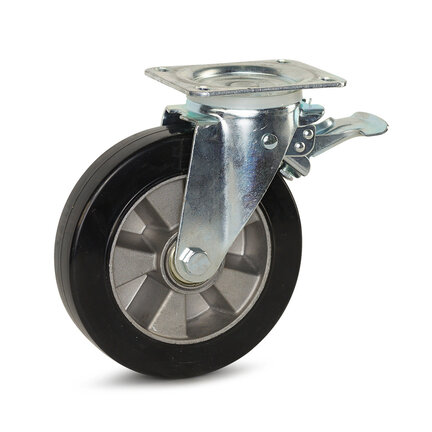 Waste container wheels
Waste container wheels allow you to move your waste container easily. Given the high weight of waste containers, it is important that the wheels are of good quality and roll smoothly. With waste container wheels from WheelsOutlet, you are assured of good wheels for your containers.
Which waste container castors do I need?
You can choose from different wheels. In our range of wheels for waste containers you will find rubber swivel castors. Swivel castors can turn and roll in all directions. This mobility is required for waste containers so that they can easily be manoeuvred in all directions. In addition, rubber wheels are relatively soft so they roll perfectly on hard and uneven surfaces such as tiles and stones. They also roll well over obstacles such as thresholds. Container wheels differ on load capacity and braking power, among other things.
Load capacity
In your choice of the right waste container wheels, it is important to know what load capacity the wheels should have. This depends on the total weight of the waste container to be transported. We offer wheels for waste containers with a load capacity of up to 500 kg.
Castors with and without brake
In addition, you can choose between castors with and without brake. With the brake, you can easily lock the waste container to prevent it from rolling away. It also blocks the rolling direction of the castors.
Order waste container wheels
You can easily buy your waste container wheels online at WheelsOutlet. We have a very large stock which allows us to deliver wheels quickly. In addition, our wheels are also very competitively priced. Do you have questions or need advice about wheels? Then contact us via e-mail or by phone on (0)85 076 53 13. A team of specialists is at your service!
Read more
Close