Handtrucks
Want to buy Pushcarts? You will find hand trucks or trolleys with different load capacities, functions, wheel sizes and wheel types at WheelsOutlet. From stair runners to collapsible aluminium hand trucks.
£ 30.04(36.05 Incl. VAT)

Compare

Onze keuze

£ 42.93(51.52 Incl. VAT)

Compare

£ 136.13(163.36 Incl. VAT)

Compare

£ 33.02(39.62 Incl. VAT)

Compare

£ 90.91(109.09 Incl. VAT)

Compare

£ 143.75(172.50 Incl. VAT)

Compare

£ 128.10(153.72 Incl. VAT)

Compare

£ 149.19(179.03 Incl. VAT)

Compare

£ 176.42(211.70 Incl. VAT)

Compare

£ 233.05(279.66 Incl. VAT)

Compare

£ 197.11(236.53 Incl. VAT)

Compare

£ 224.33(269.20 Incl. VAT)

Compare

Order

before 12 AM

, shipped same day

+4,5 stars

- Trusted Shops

Buying in bulk?

FREE no obligation quotes

£ 260.27(312.32 Incl. VAT)

Compare

£ 291.85(350.22 Incl. VAT)

Compare

£ 295.12(354.14 Incl. VAT)

Compare

£ 242.85(291.42 Incl. VAT)

Compare

£ 77.95(93.54 Incl. VAT)

Compare

£ 72.75(87.30 Incl. VAT)

Compare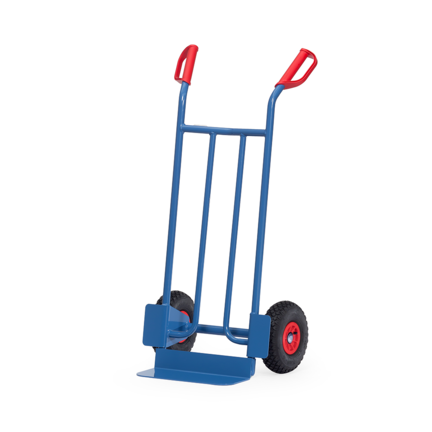 Hand trucks
A hand truck or trolley is a handy tool widely used in warehouses, factories and other working environments where materials and goods need to be moved. These trolleys are often equipped with sturdy wheels and a platform on which materials can be placed, making them easy to move. A trolley is the ideal solution for moving heavy objects. Whether you are looking for a hand truck for use in a warehouse, a garage or simply for use at home, there is a wide choice of different types and sizes of hand trucks within our range.
Choosing the right hand truck
When choosing the right hand truck or trolley, it is important to consider what kind of loads you will be moving and in which environment you will use the hand truck. For example, you can choose a hand truck if you are working in a small space, or want to move medium-heavy objects.
Hand trucks with short shovels
Within the assortment of WheelsOutlet, you will find trucks with short shovels. These are ideal for moving boxes or other medium-sized objects. We offer, among others, trucks from the well-known brand Fetra, these trucks are of very high quality.
Long-sided trucks
We also offer hand trucks with an extended blade. These have the same load capacity as the short-sided trucks. However, the big advantage of these trucks is that they allow you to lift larger objects. Think, for example, of oil drums or wide and deep boxes.
Stairway trucks
Using a standard hand truck on stairs is often very difficult. The hand truck must then be 'lifted' up or down step by step. For example, are you working in an apartment complex or block of flats where there is no lift? Then you will still need to use the stairs for your transport. Especially for this type of situation, we sell a high-quality Fetra stairway truck. This hand truck is fitted with rotating wheels for smooth transport of your goods up and down the stairs. Both up and down.
Collapsible hand trucks
At WielenOutlet, we also offer very competitively priced collapsible hand trucks. These are very compact and therefore easy to transport. Besides being collapsible, these trucks are also retractable. These are very handy hand trucks for at home or to take to a job. A nice additional advantage of these collapsible hand trucks is that they are very competitively priced. So, are you looking for a hand truck that you don't want to spend too much money on because you probably won't use it every day? Then these hand trucks are very interesting.
Do you have questions about our hand trucks or are you having trouble finding your way around? Please contact our customer service, they will be happy to help you! Even if your truck is not in our current range, you can of course contact us. We will be happy to advise you on an alternative or work with you to find another solution.
View the rest of our range of transport trolleys here.
Read more
Close