Black wheels
Looking for luxurious black castors with an industrial look? Our black industrial castors look perfect under furniture with black steel legs. These castors are suitable for indoors and outdoors, so you can implement this beautiful industrial look anywher
£ 5.25(6.30 Incl. VAT)

Compare

£ 7.24(8.69 Incl. VAT)

Compare

£ 8.16(9.79 Incl. VAT)

Compare

£ 7.24(8.69 Incl. VAT)

Compare

£ 8.16(9.79 Incl. VAT)

Compare

£ 8.53(10.24 Incl. VAT)

Compare

£ 10.58(12.70 Incl. VAT)

Compare

£ 12.65(15.18 Incl. VAT)

Compare

£ 11.59(13.91 Incl. VAT)

Compare

£ 9.59(11.51 Incl. VAT)

Compare

£ 10.93(13.12 Incl. VAT)

Compare

£ 11.71(14.05 Incl. VAT)

Compare

Order

before 12 AM

, shipped same day

+4,5 stars

- Trusted Shops

Buying in bulk?

FREE no obligation quotes

£ 15.79(18.95 Incl. VAT)

Compare

£ 17.29(20.75 Incl. VAT)

Compare

£ 13.73(16.48 Incl. VAT)

Compare

£ 17.84(21.41 Incl. VAT)

Compare

£ 19.32(23.18 Incl. VAT)

Compare

£ 4.84(5.81 Incl. VAT)

Compare

£ 6.61(7.93 Incl. VAT)

Compare

£ 7.30(8.76 Incl. VAT)

Compare

£ 6.61(7.93 Incl. VAT)

Compare

£ 7.30(8.76 Incl. VAT)

Compare

£ 2.16(2.59 Incl. VAT)

Compare

£ 5.97(7.16 Incl. VAT)

Compare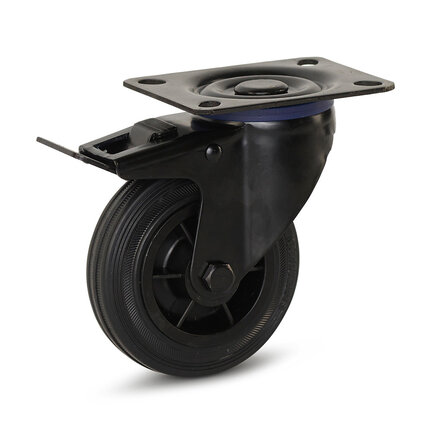 Are you looking for luxurious black castors with an industrial look? Our black industrial castors look perfect under furniture with black steel legs. This way, you can make your furniture mobile and they also look extra stylish. These castors can be used both indoors and outdoors so you can carry through this beautiful industrial look anywhere.
Black industrial castors for indoors and outdoors
Our black industrial wheels come in different applications, both indoors and outdoors. For example, you can choose a harder black solid rubber version, which are especially suitable for indoor use. This is because these castors are harder and therefore ride a lot better over hard floors. These harder black solid rubber wheels are round 80, 100 and 125 millimetres with roller bearings. If you need black metal castors for outdoor use, then choose our highly elastic (65° Shore A) rubber version. This is because these wheels have a very low threshold resistance and can therefore ride well over thresholds, obstacles and uneven tiles. These wheels are available in round 100 and 125 millimetres with ball bearing. Outside, these black steel wheels are just as resistant to rust or corrosion as galvanised wheels. So they continue to look great.
Order your black metal castors online directly
Incidentally, our black metal castors can be used for much more than just under furniture. For example, they can also be used under the BBQ, planters or garden parasols. Ideal if you can wheel everything in your garden; it saves a lot of lugging! Best of all, you can easily order these wheels online at WheelsOutlet. Not quite there? Then feel free to contact us! We will be happy to help you find the right black wheels.
Read more
Close