Swivel castors with M16 thread
Swivel castors with M16 thread. View our range here. Is your product not listed? Please feel free to contact our customer service.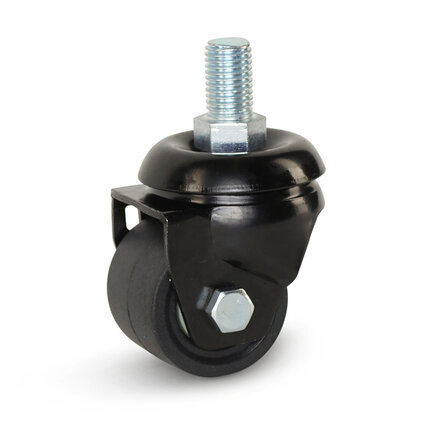 Swivel castors with M16 thread
Are you looking for swivel castors with an M16 thread pin or thread? Then you have found the right page. Here you will find all our swivel castors which can be fitted with M16 thread. Our threaded swivel castors, which are also available in other sizes and diameters, are available with or without a brake.
Advantages of threaded swivel castors
The main advantage of a swivel castor fixed with screw thread or threaded pin is that it cannot become loose due to vibration. Very handy when, for example, you use the castors outside on an uneven surface or mount the castors under a machine that causes a strong vibration.
Once you have found and ordered the right size of castor, in this case a swivel castor with M16 thread, it is very easy to assemble. In addition, the threaded pin is very wide and strong so you have virtually no risk of the fitting breaking. Of course, it is always important to carefully check the maximum load capacity of the castors you order.
M16 threaded swivel castors
The swivel castors with an M16 threaded end that fall within this category are all suitable for a relatively high load capacity. The small castors in our ZNY range have a load capacity of up to 300 kilograms per wheel. This is despite the fact that these wheels are small and compact. They therefore take up little space and your object will not be extremely elevated. Many of our loyal customers also use these castors for furniture, partly because of their beautiful black coating. Think, for example, of cupboards, desks or other pieces of furniture.
Buy castors at Logihub
You can easily buy wheels online at Logihub. We have a very wide range of different swivel and fixed castors for various applications. We supply our wheels to both private individuals and companies. And whether you need small castors for under your office chair or large heavy duty castors, at Logihub you are at the right place for all your castors!
Read more
Close