Twin swivel castors
Looking for a double caster? Here you will find the complete overview of all our double caster, with brake and without brake. Twin castors are suitable for many different applications. This is a fixed range which does not change.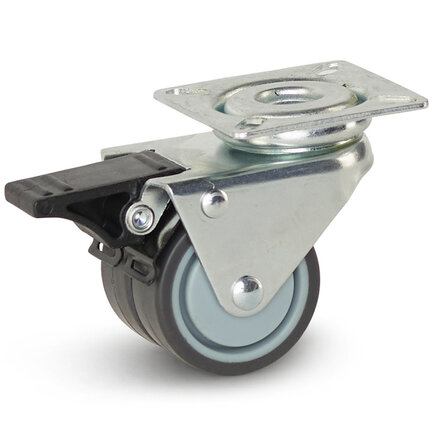 Double swivel castors
Double caster wheels are easy to buy online at Logihub. The range of double castors is very extensive. A double caster can swivel 360° and thus roll in all directions. Because this type of castor has double wheels, it has an extra high carrying capacity. This makes these castors ideal for underneath furniture. Of course, they are also suitable for other applications where great flexibility and high load capacity are required. Our wide range of swivel castors with double wheel is suitable for both private and business applications. From our webshop, we supply our castors not only to consumers but also to companies.
All kinds of twin wheel castors
At WielenOutlet, you can choose from many different types of double caster. Because swivel castors can swivel, objects with this type of castor are easy to move and steer. The larger the diameter of the wheel, the easier it rolls. With a larger wheel, the load capacity is also often higher. We offer the swivel castors with double wheel with a plate fitting or a central bolt hole. Most castors have a ball bearing, which makes them roll very smoothly. In addition, the tread is made of TPR (thermoplastic rubber), with the wheel core made of polypropylene. Due to the double roller castors, they are heavier than, for example, single furniture or trolley castors.
Twin castors with brake
Depending on your preference, you can choose double swivel castors with brake and without brake. A braked wheel can be put on the brake to prevent the wheel from turning or rolling. Useful when the object needs to stay in place. Most of our castors are double braked. This means that the wheel is blocked in both the swivel direction and the rolling direction. You can use double castors with brake well when you want to make a stable movable construction. Think, for example, of work or drawing tables.
Choosing double caster
So many castors and so many applications. This can make it difficult to choose the right double caster. Thus, it is important that you determine what the diameter, load capacity and type of floor should be. Should you have any questions about which castor is suitable for your application, we are at your service. Our team of specialists knows exactly which double caster can be used and when. You can contact us via chat, phone or e-mail. In addition, you can also fill in our product-finder. We are also at your service for assistance in placing an order. So you can always easily buy the right double caster for all your applications!
Read more
Close