Transport trolleys
Whether you need a transport trolley, platform trolley, hand truck, pallet truck or furniture dog, you will find them all within the range of Logihub.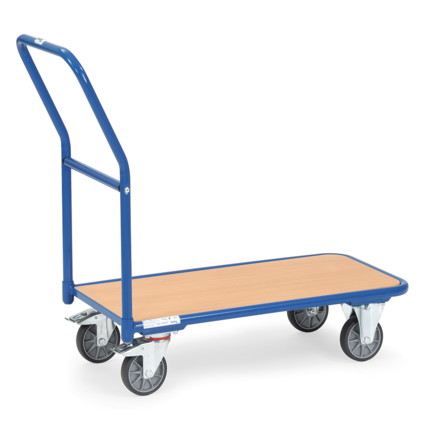 Transport carts
Transport carts are essential tools for many businesses and institutions. Whether it's moving goods in a warehouse, transporting products in a factory, or moving patients in a hospital, transport carts make the work easier and more efficient.
Different types of transport carts
There are many different types of transport carts available, each with their own unique features and benefits. One of the main advantages of transport carts is their mobility. With wheels, they can easily be moved, making them ideal for use in warehouses, factories, and hospitals. This makes transporting goods faster and more efficient.
Durable transport carts
Transport carts are also durable. Most carts are made of sturdy material and designed to have a long lifespan. This means they are a good investment for businesses and institutions looking for a tool that will last a long time.
Transport cart offerings
Our transport carts consist of the following types: warehouse carts, furniture dollies, pallet jacks, and hand trucks. These carts are essential in many industries and sectors. They are specially designed to make the transportation of heavy or numerous goods easier and more efficient.
Warehouse carts
Platform trolleys are one of the most popular types of transport carts. They are ideal for transporting goods in warehouses and storage spaces, such as in the retail and logistics sectors. They are equipped with swivel wheels, making them easy to maneuver between shelves and rows.
Furniture dollies
Furniture dollies are smaller transport carts designed specifically for moving furniture. They are ideal when you regularly move furniture, such as during a renovation or move. The furniture dollies from Logihub are always of high quality and competitively priced.
Pallet jacks
Pallet trucks are large transport carts designed for transporting pallets of goods. They are often equipped with a lifting system, making it easy to lift and move pallets.
Hand trucks
Logihub offers a wide range of handy hand trucks, you will find reputable brands such as Fetra but also a wide selection of high-quality alternatives. On our hand truck page, you will find a wide variety of options.
Read more
Close