Swivel castors with M10 thread
Swivel castors with M10 thread are easy to fit under your furniture and chairs. Take a look at our extensive range of castors with an M10 thread below.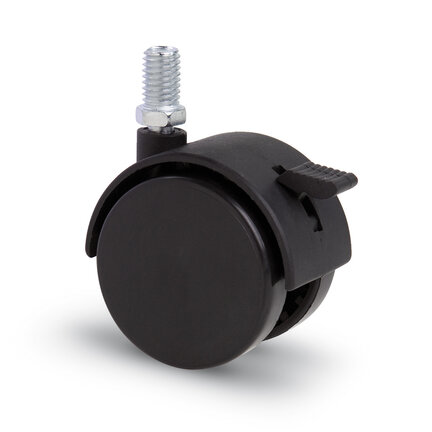 Swivel castors with M10 thread
At Logihub you will find the largest online selection of castors. You can find any type of swivel or fixed castor. Whether you are looking for braked swivel castors for your furniture or heavy duty castors for the heaviest applications; we have the right wheel for you. Swivel castors make your furniture, chairs or transport carts easily movable. As they rotate 360°, you effortlessly push the object in the right direction. These castors can be attached in various ways, including with an M10 thread. On this page, you will find a handy overview of all swivel castors that can be fitted with an M10 thread.
M10 fixing of swivel castors
Swivel castors with threaded fittings can be recognised by the threaded pin. This pin is smooth on one side, which goes into the wheel. The other side is threaded, with which the castor can be fitted to the chair or furniture. In the case of M10 castors, the thread is 10mm wide. Wheels with this size of thread are easy to mount with a socket spanner 13. Different names are often used for this type of fitting:
Threaded pin
Threaded pin
Threaded pin
Bolt fixing
All these names refer to threaded fasteners. On our website, you will find this type of fixing as threaded stud M10.
What thread size do I need?
When replacing old chair castors or furniture castors, you can measure the old threaded pin. Do not measure the core, but the outside of the part with the thread. Is the part 10mm wide? Then you need castors with M10 thread. Is the part 8mm wide? Then you will need M8. This works this way for all thread sizes. In addition to castors with M10 thread, we naturally also offer castors with other bolt sizes such as M8 and M16.
Order M10 castors at Logihub
We understand that it can be difficult to choose the right castors from our large range. That is why we are happy to help you. For example, not sure which thread size you need? Avoid ordering the wrong wheels, and ask for advice first. A team of specialists is ready to answer your questions and provide you with personal advice. You can get in touch by phone or by e-mail. Our product finder can also help you. This makes it easy to shop online for the right wheels for all your applications.
Read more
Close