Platform trolleys
Want to buy Warehouse trolleys or platform trolleys? At Logihub, we have a large range of warehouse transport trolleys. These are ideal for transporting all kinds of products within your warehouse.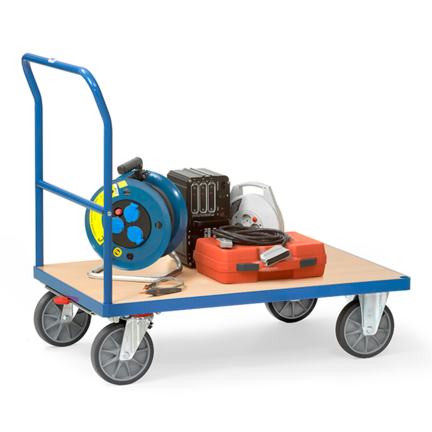 Warehouse trolleys
Warehouse trolleys, also known as platform trucks or platform trolleys, are indispensable tools in any warehouse or storage area. Whether moving goods, collecting stock or organising storage space, warehouse trolleys make efficient work possible. We offer various brands, including Fetra. Fetra warehouse trolleys are solid and made of strong material, making the platform trolleys last for many years.
Transport trolleys
Transport trolleys are indispensable in many different settings, such as warehouses, construction sites, shops and even households. They are easy to use and provide an efficient way to move goods from one place to another.
Besides transporting goods, transport trolleys are also useful for moving tools and other equipment. This could be the case on a construction site, for example, where it is important to have quick and easy access to the right tools.
Various types of warehouse trolleys
Our wide range includes different types of warehouse trolleys. Which one you choose depends on the type of load and the need for capacity. Warehouse trolleys vary in loading heights and loading surface. Besides 'standard' trucks, there are also platform trucks with multiple levels. These warehouse trolleys are available in stainless steel and in a steel and wood version. During your search for the right warehouse trolley, it is important to consider the dimensions of the goods to be transported and the space available in the warehouse. For example, some storage trolleys have the option of folding down the push bar. This is of course very advantageous when storing the trolley. We offer storage trolleys with different sizes of loading surfaces. There are smaller storage trolleys with a loading surface of, for example, 740x480 mm, but also store trolleys with a total loading surface of 1000x600 mm. Some warehouse trolleys also have anti-slip material on the loading surface. This prevents the load from sliding during transport. Loading capacities also vary within the warehouse trolleys, depending on the wheels and material of the loading surface. When choosing the right warehouse trolley, it is important to consider the specific requirements of the warehouse or storage area. For example, the warehouse floor may determine the type of trolley that can be used. The warehouse trolleys are equipped with two swivel castors (optionally with brake) and two fixed-wheel castors. This allows you to easily steer the trolley in the right direction.
Ordering warehouse trolleys online
Warehouse trolleys are indispensable for efficient and safe movement of goods within a warehouse or distribution centre. You can easily order your new warehouse trolley online WheelsOutlet. Besides transport trolleys, you have come to the right place for all your heavy duty castors and other industrial wheels. Do you have a question about an article? Then contact us via chat, phone or email. We will be happy to help.
Read more
Close