Cast iron wheels
Want to give your furniture a vintage boost? Then choose vintage retro wheels that you can mount under your coffee table, for example. Our vintage wheels are of excellent quality and perfect for furniture design.
£ 4.63(5.56 Incl. VAT)

Compare

£ 5.80(6.96 Incl. VAT)

Compare

£ 5.80(6.96 Incl. VAT)

Compare

£ 8.10(9.72 Incl. VAT)

Compare

£ 9.24(11.09 Incl. VAT)

Compare

£ 9.24(11.09 Incl. VAT)

Compare

£ 11.90(14.28 Incl. VAT)

Compare

£ 12.76(15.31 Incl. VAT)

Compare

£ 12.76(15.31 Incl. VAT)

Compare

£ 15.69(18.83 Incl. VAT)

Compare

£ 18.04(21.65 Incl. VAT)

Compare

£ 27.56(33.07 Incl. VAT)

Compare

Order

before 12 AM

, shipped same day

+4,5 stars

- Trusted Shops

Buying in bulk?

FREE no obligation quotes

£ 29.11(34.93 Incl. VAT)

Compare

£ 9.78(11.74 Incl. VAT)

Compare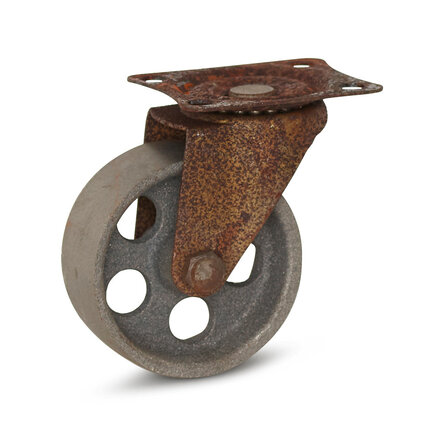 Cast iron wheels
Are you looking for cast iron wheels? Then you have come to the right place at Logihub. Cast iron wheels are nowadays often used for decoration under, for example, tables, outdoor kitchens, sideboards or other furniture. The castors give an industrial look and are perfect for modern interiors.
Cast iron castors are very suitable for decorating furniture that is largely stationary. We offer cast iron castors with load capacities from 80 kilograms up to 500 kilograms. Of course, you can also use cast iron castors to move furniture. For intensive use, however, we recommend other furniture castors. These castors are made for regular use and, unlike cast iron castors, are more suitable for the surface they roll on.
Cast iron vintage castors
Our cast iron wheels are freely machinable. If you will not edit cast iron, it will rust. Of course, this fits perfectly with a vintage look. We recommend treating them afterwards with a clear varnish, which stops the rusting process. You can of course choose to have our cast iron wheels painted in any colour you want.
Need help choosing your cast iron wheels?
So many people, so many wishes and so many applications, so many different types of cast iron wheels! We understand that it is difficult to choose the right cast iron wheels online from our large range. That's why we are happy to help you. For example, not sure which casters are best suited for the application you have in mind? Then avoid buying wheels online just like that, and ask for advice first! You can always contact us if you have any questions. You can do this via chat, phone or email. Our decision aid can also help you. We are also at your service for help with placing an order. This way, you can always easily buy the right cast iron wheels for all your applications!
Read more
Close