Multispray
Whether you need a penetrating oil, lubricant, cleaner, degreaser or a solution to protect against or remove rust, WD-40 degreasers are the right products for your wheels.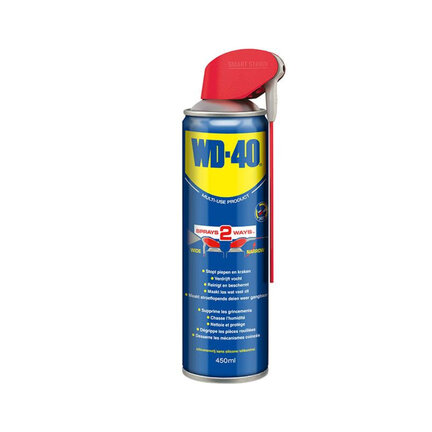 WD-40
WD-40 is a well-known brand that has been around since 1953 and is known for its versatile solutions to maintenance problems. The company produces a range of products under the WD-40 brand name, including its well-known multi-purpose oil that is specially designed to solve problems with moving parts, such as rust and clogging.
Using WD-40
WD-40 is more than just an oil. It is a product used to solve many different problems, from removing dust and dirt to protecting metal surfaces from rust. The product is safe to use.
Using WD-40 is simple. The product is simply applied to the surface to be treated and then allowed to soak in. After some time, the excess product can be easily removed with a clean cloth or paper towel.WD-40 is more than just a troubleshooting product. It is a brand known for its reliability and performance.
The benefits of WD-40
One of the advantages of WD-40 is that it is non-sticky and leaves no residue. This makes it ideal for cleaning different types of surfaces, such as machines, vehicles and tools. WD-40 is also water-repellent, making it perfect for protecting metal parts from rust and corrosion.
Buy WD-40
Logihub offers WD-40 in the handy 450 ml spray cans. You can also come to us for a large 5-litre pack. In addition, WD-40 is always competitively priced. View more of our workshop accessories.
Read more
Close