Retro wheels
Retro wheels are extremely popular. With a retro wheel, you can give your coffee table a new look in no time.
£ 4.63(5.56 Incl. VAT)

Compare

£ 8.10(9.72 Incl. VAT)

Compare

£ 11.90(14.28 Incl. VAT)

Compare

£ 27.56(33.07 Incl. VAT)

Compare

£ 15.69(18.83 Incl. VAT)

Compare

£ 5.80(6.96 Incl. VAT)

Compare

£ 5.80(6.96 Incl. VAT)

Compare

£ 9.24(11.09 Incl. VAT)

Compare

£ 9.24(11.09 Incl. VAT)

Compare

£ 18.04(21.65 Incl. VAT)

Compare

£ 12.76(15.31 Incl. VAT)

Compare

£ 12.76(15.31 Incl. VAT)

Compare

Order

before 12 AM

, shipped same day

+4,5 stars

- Trusted Shops

Buying in bulk?

FREE no obligation quotes

£ 29.11(34.93 Incl. VAT)

Compare

£ 9.78(11.74 Incl. VAT)

Compare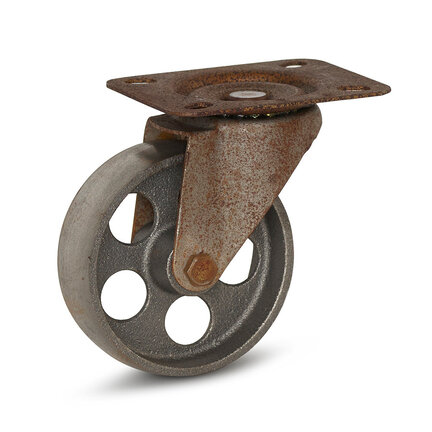 Retro castors
Retro castors give your furniture a unique, industrial look. The castors are ideally suited for coffee tables and cupboards. As with other furniture castors, there are swivel castors and fixed castors. As the name suggests, swivel castors can swivel in all directions. This allows you to easily steer an object while moving it. Unlike a swivel castor, a fixed castor can only roll in one direction. Retro swivel castors can be perfectly combined with retro fixed castors. The combination of 4 fixed castors is also often used under tables; the castors then function as table legs.
Perfect for the industrial look
The industrial look in the home is all the rage. This style is characterised by the use of robust materials such as metal, wood and concrete. The most commonly used colours are black, brown and shades of grey. It will therefore come as no surprise that the retro wheel fits in perfectly with this industrial style. This is because the complete wheel is made of untreated steel, the housing (fork) of which has had a special treatment to which it owes its rusty look. The nice thing about retro wheels is that you can change the colour as you wish. Because these wheels are not galvanised, you can give them any colour. To do so, you first need to simply remove the rust with a wire brush. Because it fits perfectly into the industrial style, the colour black is often chosen. Of course, you can also let the wheels rust further (outdoors). Do you want to stop the rusting process? Then treat the retro wheel with clear varnish or Owatrol®.
Types of retro wheels
In our product range you will find various types of retro wheels. The distinction lies in various aspects, including the wheel body design. There are solid retro swivel castors and fixed castors in which the inside of the wheel is closed. There are also wheels with spokes or round design elements. The swivel castors can be fitted using a top plate (4 bolt holes) or a single bolt hole. Retro fixed castors only come with top plate fitting. Unlike many other castors, retro castors are not fitted with a brake. However, it is possible to lock the wheels so that they cannot turn. To do this, you can remove the axle bushing from the wheel and tighten the bolt with nut firmly. We recommend doing this when the retro wheel is used on fragile floors.
Buy retro wheels
If you are looking for retro swivel or fixed castors, you are at the right place at Logihub. Also for furniture wheels and office chair wheels, you have come to the right place. Besides a wide range, we also have a very large stock. This allows us to deliver most wheels directly from stock. Moreover, our casters are also very competitively priced. Do you need advice on which castor is suitable for your situation? Then contact our customer service via e-mail or by phone on +31(0)850765313.
Read more
Close