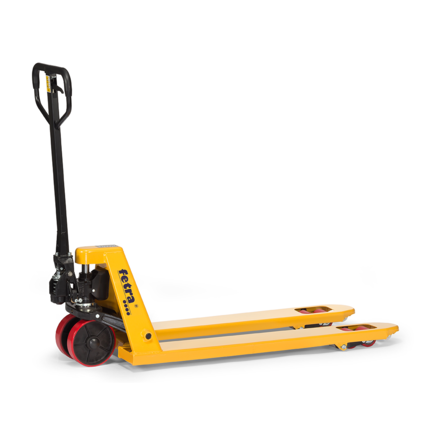 Pallet trucks, also known as pump trucks or pallet trucks, are indispensable in logistics operations. They can be used to move pallets of goods in a warehouse or in a truck, for example.
Pallet trucks are characterised by their tight turning radius and load capacity. Some versions can carry up to 2,500 kilos! Using a pumping movement, the pallet can easily be lifted off the ground, making moving it very easy and smooth. Lowering the pallet at its destination is even easier by squeezing a simple lever.
Models
Pallet trucks can have different designs. For instance, the fork length or fork width can differ from one pallet truck to another. The load capacity also varies. In addition, the material of the wheels differs per pallet truck. The lifting height can also differ per pallet truck.
Order online
Pallet trucks, pump trucks or pallet trucks can easily be ordered online at WielenOutlet. If you have any questions about an article, please contact us via chat, mail or phone. Our contact details can be found at the bottom of the website.
Read more
Close