Scaffolding castors
Need scaffolding castors? We have a wide selection of wheels for both rolling scaffolds, folding scaffolds and room scaffolds. All of them of high quality.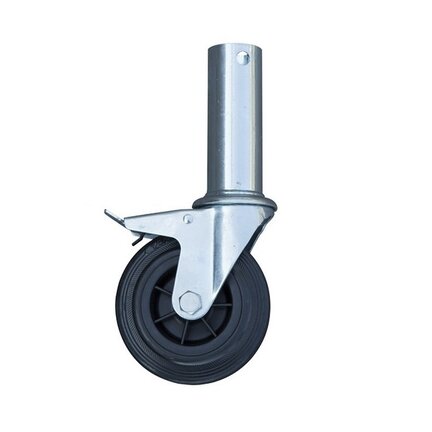 Scaffolding castors
Do you need wheels for your scaffolding? Then you are in the right place. We supply various high-quality universal scaffolding casters at very competitive prices. Because a scaffold stands on its wheels, it is important that these are of good quality. Worn or broken wheels can cause accidents. Therefore, check regularly whether the castors are still functioning properly. Are the castors in need of replacement? You will always find a suitable scaffolding wheel for your situation in our range.
Which scaffolding wheel do I need?
There are various types of scaffolding castors. Which scaffolding wheel is suitable for your situation depends on various factors. Do you need new wheels for your room scaffold or for your rolling scaffold? For room/and folding scaffolds, we offer rubber room scaffold castors with a diameter of 100 mm and 125 mm. These wheels are not height-adjustable and are secured with a safety clip. Rubber scaffolding castors are extremely suitable for use on floors where, for example, there is construction debris and other material residue. The room scaffolding castors are suitable for a tube size with a standard inner diameter of 47/48 mm. For rolling scaffolds, we have nylon and PU wheels. Unlike the chamber scaffold castors, rolling scaffold castors are height-adjustable by means of a spindle with adjusting nut. This makes them extremely suitable for uneven surfaces because the scaffold can then easily be made level. So you are always assured of straight scaffolding.
Because our castors have universal dimensions, they fit all aluminium scaffolds with standard tube sizes. The castors have a threaded spindle made of steel with a diameter of 38 mm. When you remove the plug & tube from the spindle, they are also suitable for steel scaffolding tubes or tubes with a smaller inner diameter up to 39mm. Both types of wheels are double braked. This means that when the wheel is on the brake, both the direction of travel and rotation are blocked. This allows you to work safely on your scaffolding. Moreover, our white nylon scaffolding castors are equipped with a highly reliable braking system designed by our technical specialists. This ensures you have a reliable and safe wheel for your scaffolding. The robust nylon type is available in an 800kg and 1200kg version.
For higher quantities, it is possible to supply the colour of the nylon or PU scaffolding wheel in your house style. Please contact our customer service.
Order scaffolding wheels easily
At Logihub you will find the right wheel for your scaffolding. Of course, you can also come to us for all your other castors such as swivel castors with brake, heavy duty castors and trolley wheels. If you already know which wheel you need, you can easily order it online. Need help making your choice? No problem. Our team of specialists is at your service for personal advice. You can also use our product finder to help you choose the right castors.
Read more
Close